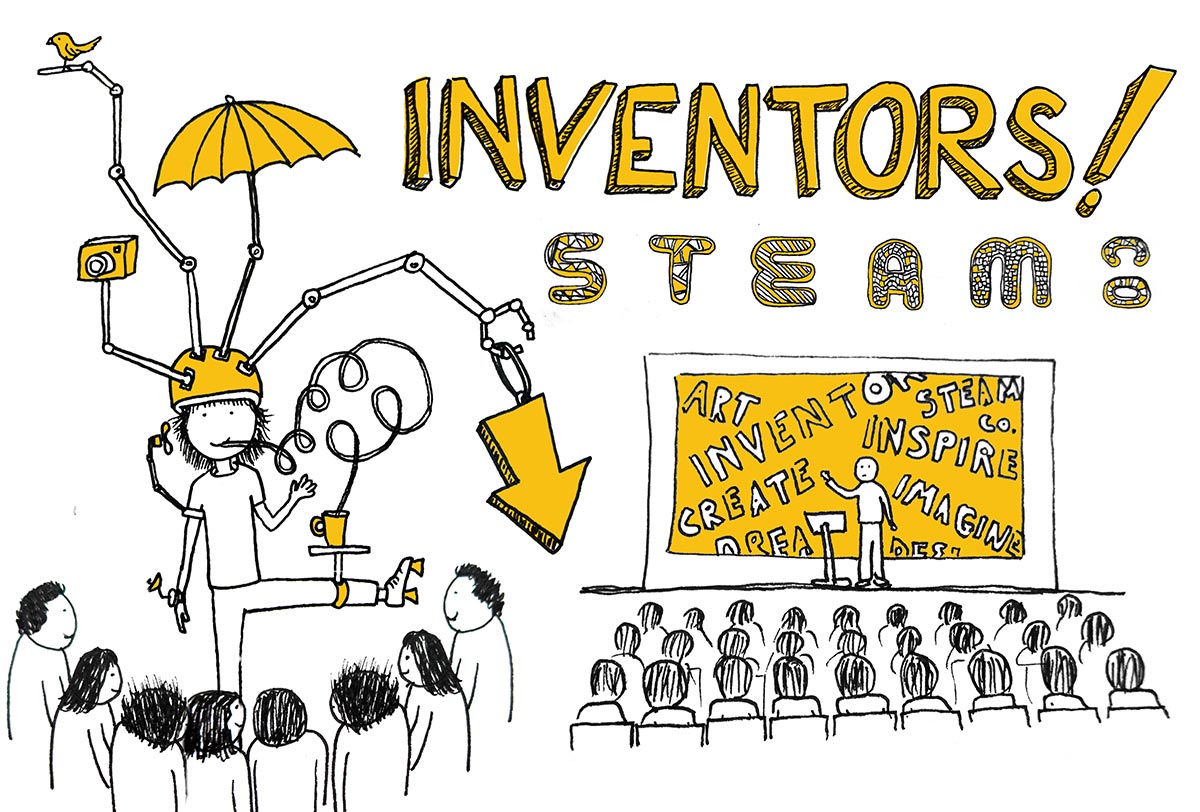 STEAM Co. Day
INVENTORS! STEAM co Day
'Inspiring tomorrow's innovators, creative thinkers and inventors.'
As the culmination of the INVENTORS! project we will be hosting the INVENTORS! STEAM Co. conference. How can we inspire children to become innovators of the future?
When: Friday, January 29, 2016 from 11:00 AM to 2:30 PM (GMT)
Where: Monkwearmouth Academy – Seaburn Dene. Torver Crescent. Sunderland, Tyne and Wear SR6 8LG
Get your free tickets here
The day will be held at Monkwearmouth Academy in Sunderland and will consist of two elements:
INVENTORS! STEAM CO. TALKS
A programme of talks to celebrate and showcase creativity, community and education. These will include a programme of keynote talks including Sunderland born inventor and global UK creativity ambassador, Dominic Wilcox and Nick Corston, Co-founder of STEAM Co. The programme will also include short talks from a number of national and local speakers to showcase local creativity, community and education.
We're delighted that the keynote talk will be given by Sir Peter Bazalgette, who as chairman of The Arts Council and whose great grand father engineered the London sewer system is better placed than many to talk about STEAM, art and culture.
Confirmed speakers:
Sir Peter Bazalgette – Chair, The Arts Council
Chi Onwurah* – MP Newcastle, Shadow Minister for BIS/Culture Media and Sport
Lord David Puttnam** – Film producer and educator
Paul Callaghan – Chair of Sunderland 2021 and Music, Arts and Culture Trust
Dominic Wilcox – Inventor, Artist and Inspirator
Martyn Ware – Musician, broadcaster and co-founder Human League and Heaven 17
Emma Pace – Artist, House of objects
Mick Stephenson – Light Artist, mickstephenson.net
Helen Burns – Research Fellow – SOLE Central, University of Newcastle
David Gowans – Digital Eagle, Barclays
Ian Green – Senior Training Controller, Nissan Motor UK
Nick Corston – Co-founder, STEAM Co.
TBC – local artists, educators and other stars of the community
* Subject to other ministerial business ** By video link
STEAM CO. ACTIVITIES
At the same time, during the day a number of children from selected local schools with come in to sample a STEAM Co. Day for themselves. After an introductory talk from Dominic Wilcox, they will get to choose from up to 20 creative thinking and doing activities staged by local artists, technologists, makers and other artists/creatives.
Find out more here: http://www.steamco.org.uk/inventors/
See more of Dominic Wilcox's work here: www.dominicwilcox.com